We at Noble Living, LLC take pride in our community of care and would love for you to share your positive experience with others by leaving us a google review for the home location where your loved one lives.
How blessed was our family to find Noble Living which is Nora, Mel, Rebecca, Eddie, Patricia and those that call Noble Living home. All of you provided safety, comfort, understanding, joyful moments, laughter and care for Muriel. At an often difficult period of life for those in your care you graciously wear many hats for their well being and dignity- housekeeping, chaplain, counselor, chef, problem solver, organizer, entertainment, caring for the residents' physical and emotional needs, health advocate, companionship, humor and love.
Nora, Mel, Rebecca, Eddie and Patricia, you are doing some of the most important work in life. Yours is not an easy calling but this does not hinder you in providing the end of life services that are so essential and you do it with compassion while maintaining your clients' dignity each and every day.
The Richards family, the Torgerson family and the Honchar family honor you and your work. We extend our gratitude to you for your care of Muriel and also for reaching out to each of her family members which had to be a daunting challenge with so many different personalities and emotions coming at you. I would like to end with one of my daughter's favorite quotes, "To affect the quality of a day, that is the highest of arts." Thank you for doing this each day for Muriel.
You are our HEROES!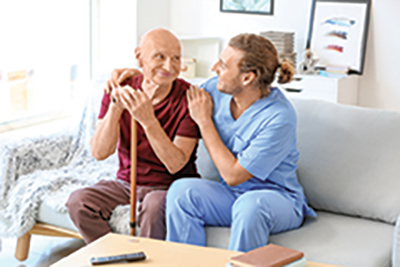 From the moment that Nora came to our home to meet my father, we felt that she made a special connection with him.   We chose Noble Living because it felt like a warm, inviting home and we wanted my father to be as comfortable as possible.  It was a very difficult decision for my mother, but we are glad that we chose Noble Living.  We think that a larger facility would have been too overwhelming for him at the stage of Alzheimers that he was in.   
 
Nora and her staff treat their residents with respect and they provide quality care that supports each individual's ever changing needs.   We felt that Nora did an excellent job at communicating with us along the way and she made suggestions to help as the disease progressed.   
 
We felt that Noble Living did a great job at making residents feel part of a family.  They held BBQs and did special activities for the holidays, in which families of residents were invited to attend.  They play music for the residents, which they enjoy.  They play classic shows and movies and make sure the residents are not exposed to negative shows.
 
Whenever we had concerns, Nora would meet with us, listen to us and make suggestions or adjustments as needed.  We saw only positive changes made throughout the time we were there.
Despite his age and health my uncle was still a little boy inside who wanted to belong, to feel cared about, and to be tended to. That is what Noble Living did. You provided him a sense of family. One of the blessings we experienced in helping my uncle despite being many states away from him, was seeing how Noble Living became his family, how you Nora hung in there with him through his tough times and how you enjoyed his good times with him. In our visits, we felt included in the Noble family, too.  My uncle was so content, so appreciative and so hungry- for the great meals he had there, what an appetite! From the bottom of our hearts thank you for bringing my uncle and us into the Noble family. We will always remember you and what you did.
I wanted to share my feelings about Noble Living. Nobel Living is a warm, caring home. My Mom is at home there, the owners Jon and Debra are so kind and caring. Nora the head caregiver is an angel on earth. They are so attentive and thoughtful. I just mentioned in conversation that my Mom enjoys listening to country western music. When I stopped by yesterday my Mom was relaxing on the couch, cuddled in a blanket listening to her music. They listened and remembered this small detail, it means a lot to my Mom and me. I couldn't be happier and at peace leaving my Mom in their loving hands. Thanks for recommending Noble Living! Please share this with other families looking for that special home for their Mom.
Looking for a place for my grandmother was a very difficult and very sad thing to have to do. Every place we went to didn't feel right, and I always left each place thinking she deserves better than what we saw. When I went to see Noble Living, I had already seen at least three other disappointing facilities and had noticed that it was a nice and cozy home and not a facility. I was shocked that there was even an option to be cared for in a home. I first met the owner Jon and the head Caregiver Nora. After just a few minutes talking with them I was very impressed with the dedication and the seriousness they both had to making sure their residents were safe, happy, and healthy. Nora especially was the deciding factor; not only was she very good at her job, but she loved doing it. I was sold. The staff at Noble Living gave my grandmother the best last year on this Earth that she could have ever had. She left feeling loved by not just her family but the amazing staff at Noble Living as well, and in a place that felt just like home. I could never thank them enough for all they have done for me, my family, and my grandmother.
Noble Living offered my father intimate, personalized dementia care delivered by compassionate caregivers in a sparkling clean and comfortable residential setting. The Noble Living staff  carefully coordinated hospice and medication management with medical professionals. Every time I visited my father, he was clean and well attended for; his individual specialized needs for diet were easily accommodated. I would not hesitate to recommend placing your loved one under Nobel Living's high quality care.
Nora, Rebecca, Patricia and the entire care giving team is professional , patient and kind. thank you for working together to keep my Father, Marvin, comfortable!
Noble living was a Godsend for our Mom! Having her in a home where the staff loved on her even though she acted out, and where she could be in the kitchen while the meal was being prepared, along with a  homey family room and lovely bedroom, (and she even made a wonderful friend named Dorothy), made this a very safe, comfortable  environment for her. I asked her once if she liked it "here" and she said, "of course, it IS my home!" As her daughter, that meant the world to me! You each always welcomed us family members anytime too, and I never felt I was in the way when I visited. It truly felt like family caring for her since we could not. The meals  the staff prepared looked fresh and tasty. The home was always clean and the atmosphere was wonderful! Pleasant decor made it calm and serene, and we all enjoyed the various holiday decorations.  I felt it was the best place for Mom to be. I would be happy to personally share this with anyone considering placing a loved one at Noble Living. I know we made the right decision when we moved her here!